Dr. Heidi Goodarzi Pediatric Dermatology
Dr. Heidi Goodarzi | M.D, F.A.A.D | Newport Beach, CA
Heidi Goodarzi, M.D, F.A.A.D., graduated from Harvard Medical School after receiving her Bachelor's degree from University of Pennsylvania. She completed her first year of residency in Pediatrics at Massachusetts General for Children, a Harvard Hospital in Boston, MA. She then completed three years of Dermatology residency at University of California, Davis. Later in her career she went back to do a Fellowship in Pediatric Dermatology at Stanford. ​
Dr. Heidi has been actively engaged in Dermatology research and has published many peer-reviewed articles. She specializes in Women's & Children's Skincare & Disease. She is well-trained in all aspects of medical, surgical, cosmetic and pediatric dermatology. She has a passion for simple, but effective skincare in children, teenagers and adults. ​
Dr. Heidi lives in Orange County, CA with her husband and three young children. Her practice is located in Newport Beach, CA. ​​
---
---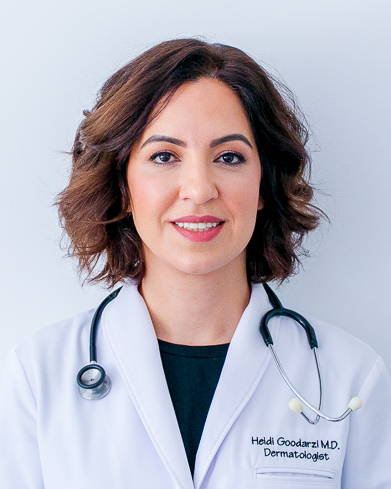 What Do You Love About Think?
"My love for the Think Baby line started with me looking for non-nano zinc sunscreens for kids. I am ok with nano zinc particles for kids with an intact skin barrier but for compromised skin, such as in eczema, I worry about absorption of zinc nanoparticles into the skin.
Finding Think was a great way to not only get non-nano zinc for my children and my babies, but I also found a wash that is made to remove the white stickiness off my kids #bonus :)
I also like that these products are made in the USA."
---
Dermatologist Recommended Think Baby & Body Care by Dr Dr. Goodarzi